How to Build a Robot - Robot Building for Everyone!
Welcome to the Robotics Universe!
The Bestselling Robotics Book!
Have fun while learning how to design, construct, and use small robots! This richly illustrated guide offers everything you need to know to construct sophisticated, fully autonomous robots that can be programmed from your computer.
Fully updated with the latest technologies and techniques, Robot Builder's Bonanza, Fourth Edition includes step-by-step plans that take you from building basic motorized platforms to giving the machine a brain--and teaching it to walk, talk, and obey commands.
This robot builder's paradise is packed with more than 100 affordable projects, including 10 completely new robot designs. The projects are modular and can be combined to create a variety of highly intelligent and workable robots of all shapes and sizes. Mix and match the projects to develop your own unique creations.
The only limit is your imagination!
Robot Builder's Bonanza, Fourth Edition covers
Parts, materials, and tools
Building motorized wooden, plastic, and metal platforms
Rapid prototyping methods
Drafting bots with computer-aided design
Constructing high-tech robots from toys
Building bots from found parts
Power, motors, and locomotion
Robots with wheels, tracks, and legs
Constructing robotic arms and grippers
Robot electronics and circuit making
Computers and electronic control
Microcontrollers--Arduino, PICAXE, and the BASIC Stamp
Remote control systems
Sensors, navigation, and visual feedback
Robot vision via proximity, light, and distance
At a glance
Robot Builder's Bonanza, Fourth Edition
By Gordon McComb
ISBN-10: 0071750363
ISBN-13: 978-0071750363
736 pages
Published by McGraw-Hill/TAB
Build Your First Robot Chassis
Available Now from Budget Robotics!
Make your own super-affordable and super-expandable Arduino-based robot. Includes all body parts: top and bottom decks, servo mounts, and all hardware. Assembles in under 15 minutes.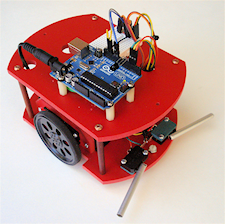 Just add your own Arduino microcontroller, servos, wheels, and other electronics — stuff you may already have.
The double-decker Build Your First Robot measures 7" x 5", and is made of 1/4" expanded PVC plastic. Plenty of room to grow! Add sensors and other accessories in a flash.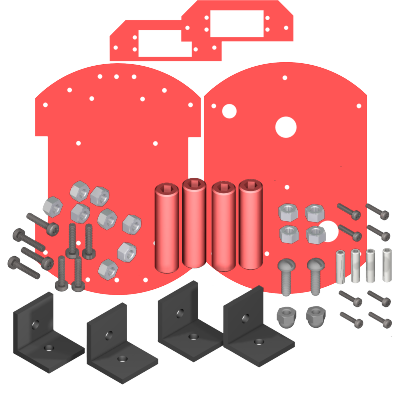 The BYFR chassis kit contains the following:
7" x 5" bottom deck, with wheel well cutouts for the drive wheels.
7" × 5" top deck, pre-drilled for either Arduino Uno or Propeller Activity Board mounting
Servo mounts (2).
90° plastic L brackets, for attaching the servo mounts to the bottom deck.
4-40 machine screws and nuts, for attaching the servos and servo mounts.
Deck risers consisting of: (4) standoffs with matching machine screws.
Skids consisting of: (2) 6-32 × 3/4" machine screws, (4) 6-32 hex nuts, (2) 6-32 acorn (cap) nuts.
Mounting hardware for microcontroller board.
Note! Servo motors, wheels, breadboard, piezo speaker, Arduino or Propeller microcontroller, wiring, switches and other electronics are NOT included. You may purchase these from numerous online retailers.
About the author
Gordon McComb has written more than 65 books and thousands of magazine articles—more than a million copies of his books are in print, in more than a dozen languages. He's has been called "The father of hobby robotics" by MAKE Magazine.
For 13 years, Gordon wrote a weekly nationally syndicated newspaper column on computers and technology, which reached several million readers worldwide. He's a regular contributor to SERVO Magazine, and most recently completed seven years as writer of their popular Robotics Resources column.