How to Build a Robot - Robot Building for Everyone!
Welcome to the Robotics Universe!
NEW! Learn Arduino Robotics the fun way with Arduino Robot Bonanza!
This is your robot ... with an Arduino brain!
Breathe life into the robots of your dreams—without advanced electronics or programming skills. Arduino Robot Bonanza shows you how to build autonomous robots using ordinary tools and common parts.



Learn how to wire things up, program your robot's brain, and add your own unique flair. This easy-to-follow, fully illustrated guide starts with the Teachbot and moves to more complex projects, including the musical TuneBot, the remote-controlled TeleBot, a slithering snakelike 'bot, and a robotic arm with 16 inches of reach!
The projects in Arduino Robot Bonanza are designed to be reproducible using ordinary shop tools and average construction skills. There's no cutting heavy metal or welding, and each of the six robots are constructed using parts that are commonly available. None of the projects rely on hard-to-find or surplus components.
While robot building can be an expensive endeavor, all six plans favor lower cost parts, and encourage re-use.
Arduino Robot Bonanza covers
Get started on the Arduino board and software
Learn about the various Arduino boards, and how to use them in your robots
Hook up high-tech sensors and controllers
Write and debug powerful Arduino apps
Navigate by walking, rolling, or slithering
Program your 'bot to react and explore on its own
Add remote control and wireless video
Generate sound effects and synthesized speech
Develop functional robot arms and grippers
Extend plans and add exciting features
At a glance
Arduino Robot Bonanza
By Gordon McComb
ISBN-10: 007178277X
ISBN-13: 978-0071782777
416 pages
Published by McGraw-Hill/TAB
$1 Clearance Items on
BudgetRobotics.com
My online store, Budget Robotics, is moving to new offices. We're clearing out excess inventory, including hardware, fasteners, small gears, electronics, specialty components, construction parts, and more.
All clearance items are priced at just $1. Here are just a few examples:
Tamiya 2AA switch box
4 sets for $1

Futaba-Spline Servo Arm/Horn Assortment
2 packs for $1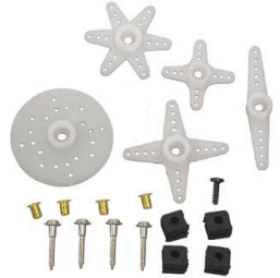 RJ11 6-pin jack, with pigtails
4 for $1

About the author
Gordon McComb has written more than 65 books and thousands of magazine articles—more than a million copies of his books are in print, in more than a dozen languages. He's has been called "The father of hobby robotics" by MAKE Magazine.
For 13 years, Gordon wrote a weekly nationally syndicated newspaper column on computers and technology, which reached several million readers worldwide. He's a regular contributor to SERVO Magazine, and most recently completed seven years as writer of their popular Robotics Resources column.